As a mortgage broker, your role is to track down the best financing options for your client. While the big banks in Canada are the dominant lenders for plain vanilla mortgages, they're not always the best option for borrowers who don't fit the mold – for example, those who are seeking construction financing. (Read here about items associates with Construction Financing Success for your clients.)
In these cases, alternative lenders such as mortgage investment corporations (MICs) can sometimes offer better solutions.
If your client requires a construction mortgage, here are four reasons why you should look beyond the big banks:
1. Banks often lack a specialized team
While banks do provide construction financing, they rarely have a specialized team to focus on this type of lending. Why? Because they tend to view construction mortgages as more of a headache compared to regular mortgages. Since construction mortgages involve more risk – it's harder for banks to sell an incomplete house than a completed one – they are less attractive to take on, and so most banks don't invest in teams to target them.
MICs view this as an opportunity to support an underserved market. At Pillar, we have built up a team with specialized capabilities for dealing with construction financing. Our underwriters take the time to understand your client's situation and construction plan, both at the outset and throughout the duration of the project. As a result, we are better positioned than banks to balance opportunities and risks while helping your client build their dream home.
Rick Wilson, a mortgage agent with The Mortgage Advisors, sees the value in this. He notes,
"Pillar's team makes great efforts to listen to and understand the specific needs and requirements for each deal. From this understanding, we can work together to provide a financing solution that is fair and favorable to our clients."
2. Banks are more restrictive
When banks do provide construction financing, their terms are typically more restrictive than those offered by MICs. For example, banks generally require borrowers to own the land for the project outright, and they usually do not provide any financing at registration. For your client, this means they need to have an alternative source of funds to get their project to a certain point – for example, preparing the foundation, or maybe even framing – before a bank is willing to allow the first draw.
In contrast, MICs tend to make capital available to borrowers at an earlier stage. While an MIC may still require your client to have some skin in the game, this could be as little as $50,000 out of $100,000 in total financing needed to purchase land for the project.
3. Banks have rigid draw schedules
In general, banks prefer to stick to a strict three-draw schedule for construction financing. This means that if your client runs short of funds before reaching the milestone for the next draw, they may be forced to find another source of money to keep their project moving forward.
MICs, on the other hand, tend to be more flexible. In the case of Pillar, we allow draws at any point during a construction project. Our underwriting team remains up to date on the project's progress, and we require an appraiser to review the project status before each new draw. This appraisal and other administrative fees mean there are costs associated with each draw, so it doesn't make sense for your client to repeatedly ask for small amounts.
For estimated draw amounts, try our Construction Draw Calculator.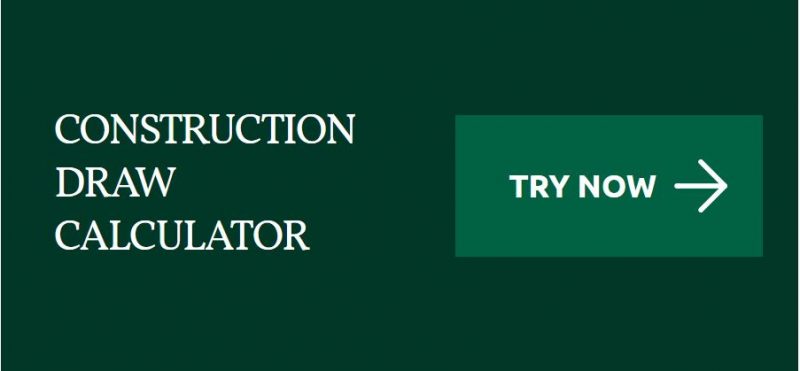 4. Banks lock in uncompetitive rates
If your client turns to a bank for construction financing, the bank may lock them in at a higher mortgage rates once the build is completed. This inability to access the most competitive rates can quickly add thousands of dollars to the overall cost of your client's mortgage.
MICs can resolve this issue by providing construction financing for the build phase and then allowing your client to secure takeout financing from a bank at a more competitive rate. At Pillar, we are usually involved for only six months to a year, after which the borrower will switch to a bank. This approach gives your client more flexibility during the construction project and lets them find a better rate at the end of the build.
Building better mortgage solutions
The big banks are big players in the mortgage industry, but sometimes alternative lenders have them beat. For construction financing, MICs have the expertise, flexibility and short-term solutions to help your client complete a successful, cost-effective build.
If you're seeking favourable construction financing for your client, contact Pillar today to find out how we can help.