Today we are excited to announce the three winners in our "Gearing Up With Pillar for 2022" promotion, which ran from January to March this year.
We had an incredible response from our broker community, so thank you to everyone for your deal submissions. But no more delays – let's reveal the winners!
The winners are…
The winner of our third prize, which is either a set of Apple Airpods or wireless headphones, is Darren Keck from Mortgage Brokers City Inc.
The winner of our second prize, which is either an Apple or Android watch, is David Griffin from DLC Griffin Financial Group.
And the winner of our first prize, which is either an Apple or Android phone, is Carlie Dagenais from Partners Financial Services Ltd.
Congratulations to our three winners! We will be reaching out to each of you individually to sort out the details of your prize. Once again, a big thank you to everyone who took part in our Q1 promo.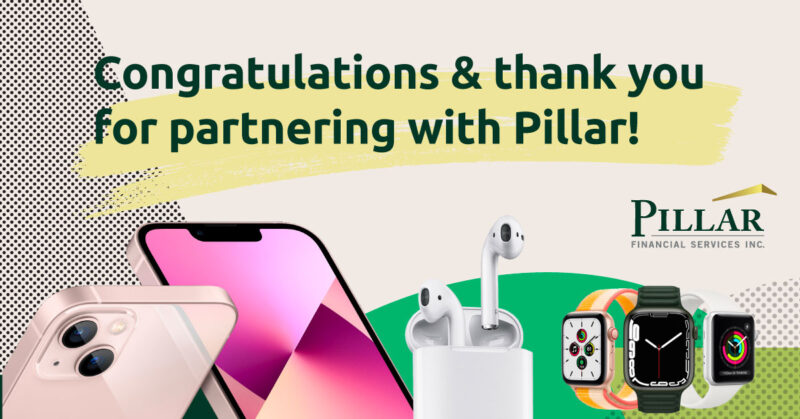 Get ready for more great prizes
While this wraps up our Q1 promo, the good news is we have an exciting new promotion coming up for Q2 and Q3 to coincide with the busy residential construction season.
We'll be sending out the details of this new promo soon, including the fantastic prizes up for grabs, so watch for news from Pillar in your inbox.
If you're not yet on our mailing list, you can sign up for our newsletter at the bottom of this page or by reaching out to a member of the Pillar team to stay in the loop about all our promotions, webinars, and lending opportunities.
As always, we're here to help you secure flexible mortgages for your clients. To learn more about how Pillar provides the Ontario mortgage broker community with versatile lending solutions, download our Pillar At A Glance document.