Recently, the W.A. Robinson Asset Management team held a webinar and presented The Robinson Report, a mid-year update on the Frontenac MIC. Gord Ross summarized what he presented below. To watch the full webinar, click here or the video thumbnail below.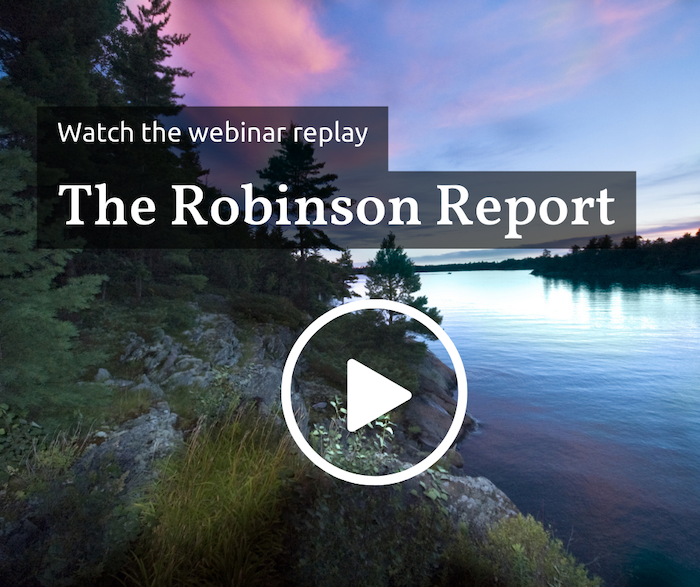 The Secret to Frontenac MIC Success
At W.A. Robinson Asset Management, our mandate is to preserve clients' capital and provide them with a reasonable rate of return, a goal we achieve consistently with Frontenac MIC. [1:50]
We'd like to believe that we have designed and built the Frontenac MIC to be the most conservative Mortgage Investment Corporation (MIC) in the Canadian investment universe. [2:41]
An advisor recently told us that Frontenac is the most boring investment opportunity available today, and that, in his view, was a good thing. We agree.
What does Frontenac MIC's stability mean to investors and advisors?
It means investors receive consistent, reliable returns or cash flows, typically between 5 to 6.5% annually after fees. This has been our story for over the last 17-plus years as a prospectus-based MIC and for 20-plus years prior to that as a private mortgage investment.
No investor has ever lost money by investing in the Frontenac MIC.
Frontenac MIC has shown no negative performance in any quarter or year since its inception in 2005. It has successfully generated uncorrelated income acting as a stabilizer and a risk reducer at the core of our investors' portfolios for decades.
How do we achieve this? [2:50]
W.A. Robinson Asset Management focuses on several factors to achieve these results.
First residential mortgages. Homeowners are vested in keeping their homes. Therefore, 1st mortgages offer the least amount of risk. They also provide a pure credit exposure, are secured by verified valuable collateral, and are protected by a power of sale.
Rural, small town and small city Ontario. Ontario offers the largest potential market and, of all the provinces, it also happens to have the best recourse laws to the lender. Ontario's power of sale process is just 35 days. While this is not part of our overall strategy, it's nice to know it's there if we must use it. We're also very tightly connected to appraisers and realtors within these locations and have access to their expertise.
Short-term maturities. Our mortgages are typically one-year terms. This keeps us nimble so we can take advantage of new opportunities or avoid pitfalls more quickly.
No leverage, The Frontenac MIC does not pursue a leveraged investment strategy. The line of credit is used to smooth out cash flows.
Reasonable loan values. This is a built-in safety net should the markets have a significant downturn. We will make loans up to 80% of the fair market value of the property and currently, the average LTV of the loan portfolio is less than 70%.
Prospectus-based in Canada. This means that Frontenac MIC is easier for advisors and investors to implement into a portfolio than OM or subscription-based investments. It also has much greater regulator interaction and oversight from the OSC offering both advisors and investors greater peace of mind.
Not traded on the TSX. This means we have a steady $30 NAV, with no daily fluctuations. Our long-term clients love this feature. Our NAV is calculated monthly. It's audited by MNP and shared with the regulator.
How has Frontenac MIC performed so far in 2022? [6:10]
We proactively and opportunistically exited from larger legacy mortgages that were not part of our core business. This purposefully and temporarily increased our cash position.
As we expected, our monthly performance started out slightly below 5%. As we repositioned ourselves even more conservatively, we worked hard over the past few months and quickly redeployed the cash from those two larger legacy mortgages into many (40-50) smaller, first residential Ontario mortgages.
June was a strong-performing month for us. The June return (annualized) was positive 8.48%, assisted by a one-time capturing of accrued interest from a property. This property had been non-performing but we did really well when we sold it in June. It was so strong a month that, even without that accrued interest, the Frontenac MIC would still have returned a positive 6.07%.
Our cash position is back down under 5% in what we like to call our "sweet spot," as it allows us to pursue opportunities while reducing the risk of the underlying portfolio.
As of June 30th, our year-to-date performance annualized is sitting at 5.6%.
How is the current market impacting investment performance? [7:58]
First, let us address the current economic conditions:
Fast-rising inflation. The annual inflation rate hit 8.1 per cent in June.
Interest rate hikes like we haven't seen in decades. There was a full 1% increase recently by the Bank of Canada in an effort to combat that fast-rising inflation. There are expectations of more rate increases still to come in 2022.
Threat of recession with future rate increases.
With these rapid changes, there is downward pressure on equities, pressure on bonds, and real estate values, which had been quickly rising over recent years, but which are now beginning to decline, particularly in the larger urban centers. We can expect this to continue.
Rising rates are good for MICs to a certain extent. When rates are compressed as much as they had been for the last few years, it's difficult for a mortgage investment corporation to return more than 5%.
As rates widen, it gives mortgage investment corps more opportunity to get the types of returns that we're looking for — 5.0% to 6.5%.
Expected performance outcome [11:08]
Given market conditions, and the actions we've taken to mitigate risk, we believe monthly performance will return more consistently in the 5.5 to 6.5% range from July through December 2022.
This makes us a terrific portfolio diversifier, given the market environment today.
The Canadian Bond Index is down 12% or so, year to date. Canadian equity markets are down more than that. The US equity markets are down even more than that.
So, a positive 5.5% to 6.5% acting as an anchor in your portfolio may make great sense going forward. If you'd like to learn more about how the Frontenac MIC might fit into an investment portfolio, let's talk.
Gord Ross
Chief Sales Officer
W.A. Robinson Asset Management
Prospective investors should read the Frontenac Mortgage Investment Corporation prospectus for more complete information, and should consider the advice of their financial, legal, accounting, tax and other advisors when evaluating this product.